The Best Biometric Safe for Your Airbnb Guests
Do you operate an Airbnb... or several?
Airbnb has changed the game for travelers, allowing everyday people to offer their unique properties and homes as affordable stays. However, most Airbnb guests are concerned about privacy and safety, and rightfully so–because these are things they would have if they stayed at a hotel. If you are a host of one or more Airbnbs, why not give your guests peace of mind by investing in The Space Safe, a smart biometric safe with an impressive array of useful features, including remote notifications?
Own an Airbnb...
or several?
Automate the entire process with The Space Safe, and create the perfect security solution for you and your guests.
Introducing: Airbnb Mode
Self-check-in eliminates physical contact and gives guests flexibility when staying at a property.
Owners can only access the property's safe if guests are not yet checked in.
CLICK TO BUY
Introducing: Airbnb Mode
Eliminate physical contact and give guests flexibility at your properties. Once guests check in, owners will not have access.
Click To Buy
For maximum security, owners can only access the safe when guests are not checked in, allowing for guaranteed privacy and security. Your guests can also keep track of their valuables by enabling SMS notifications if someone operates the safe, which is just one feature that makes The Space Safe the best safe for Airbnb guests. Imagine if you were a guest and out at the beach and you received a message saying someone has attempted to open the safe. The Space safe was made with Airbnb Hosts (and guests) in mind. And is the only safe created for Airbnb hosts and guests. Suppose you host multiple Airbnbs – even better! Monitor all of your safes in one place on our convenient app; SPACE, available for download. Owners can switch from Airbnb mode to normal at any time, so you can easily relocate it if needed. Keep reading to discover the many unique features of Airbnb Mode. The best technology is ever-evolving. The Space Safe is regularly updated with the most advanced features and latest upgrades. You could say that this smart safe is always getting smarter.
Self-check-in
Easy as 1, 2, 3. Allow guests to self- enroll and set their own checkout date with the intuitive interface.

Owners have 24 hours to accept or deny checkout dates before they are automatically approved.
CLICK TO BUY
This is why security matters! In 2019, the FBI reported an estimated 1,117,696
burglaries, equating to over 3,000 burglaries per day.
Convenience is key...
With SMS notifications, guests can have peace of mind knowing that their belongings are safe.
Guests can have peace of mind knowing that their belongings are safe in the safe,
and only they can access them. With SMS notifications, they will always be in control.
MESSAGE
Now
5 Dill Road Safe
Invalid pin has been entered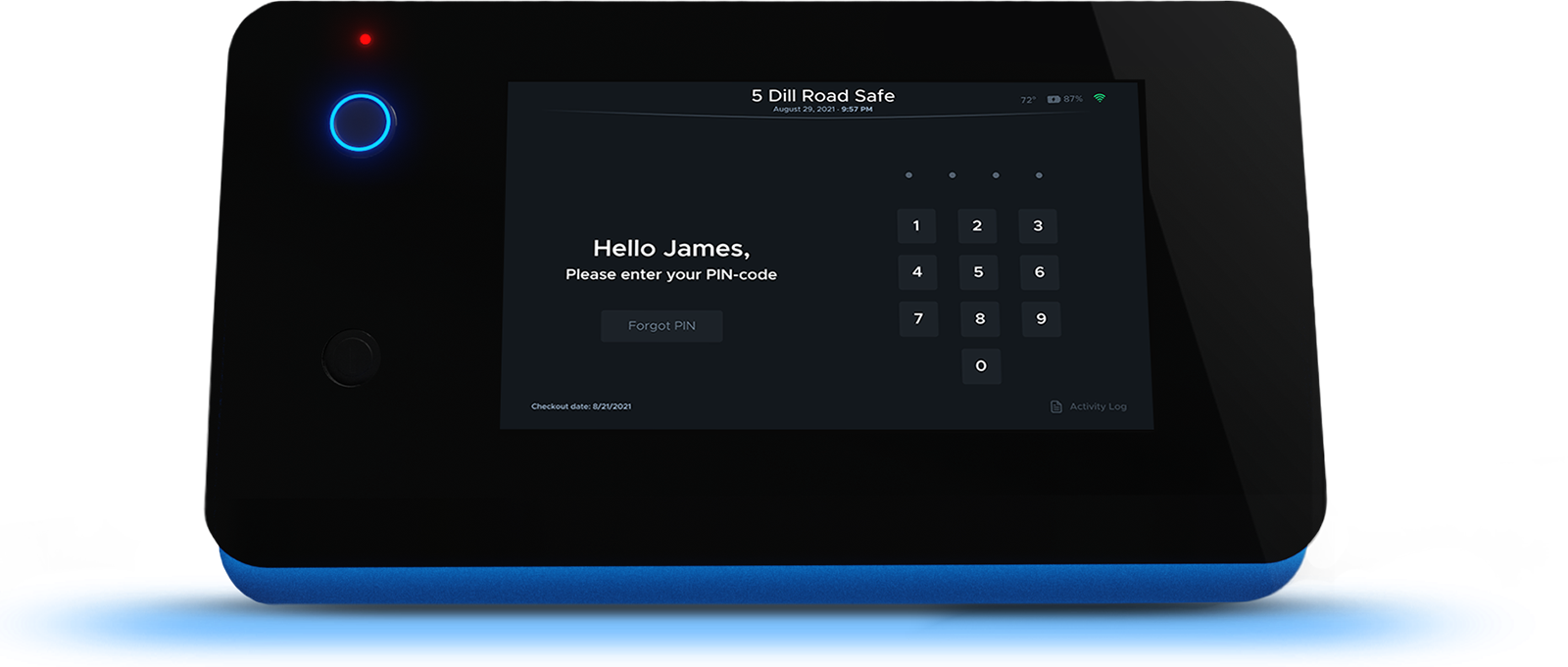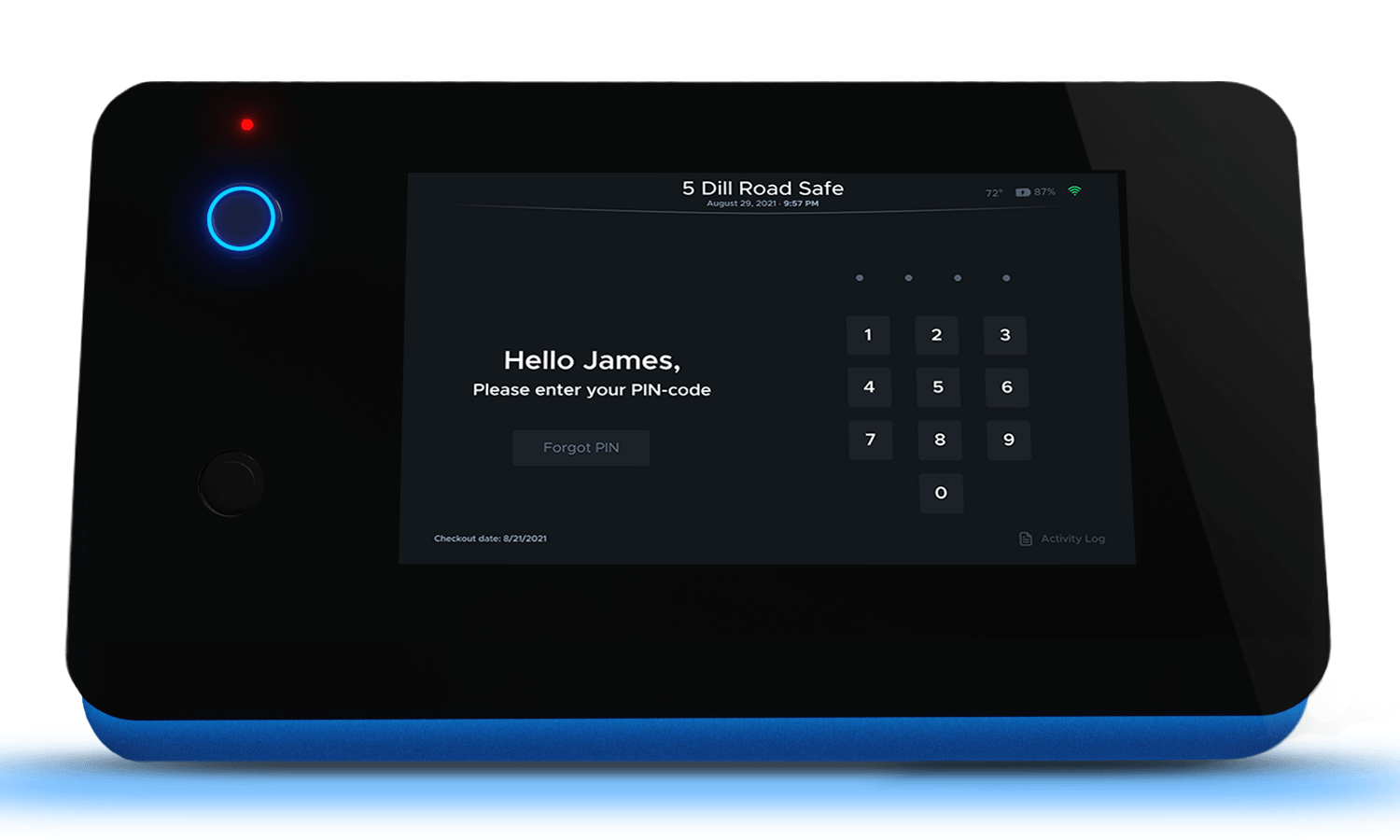 *Video will not be active when guest checks in
MORE ABOUT THE SPACE SAFE
Multiple Locations?
No problem! Track all of your safe's
in one place and easily navigate
between devices to monitor their status.
Easily move this safe from your Airbnb
Move this safe from your Airbnb
Remove this safe from your property..
Owners can switch to "normal mode" at any time and relocate the safe anywhere.
Tell me more..
One of the best features we offer in Airbnb mode is the ability to limit physical contact through a reliable self-check-in process. The process is a highly attractive feature for travelers when they pick their Airbnb stay. Self-check-in allows more flexibility for you and your guests, as they can arrive at any time during the check-in period. Once your guest has arrived, they can use the intuitive interface to set their checkout date. You'll have up to 24 hours to approve the date before it automatically gets approved in the system. Avoid the confusion of awkward meetups and key exchanges by using your Space Safe. Automation is everything today and we want to see less of people and have things streamlined, especially if you own more than one property. You can't be everywhere at a moment's notice, which is why The Space Safe is perfect. According to the Bureau of Justice Statistics, the average 911 response time for household burglary incidents is anywhere from eleven minutes to an hour which leaves plenty of time for valuable possessions and money to be stolen. Even with a home security system, having an extra line of defense for you and your Airbnb guests can save the loss of thousands of dollars. Imagine if there was a break-in and the burglar stole your Airbnb guest's passport. No need to share your PIN anymore; in normal mode, each fingerprint safe can have up to four users with their own PINs and up to 5 fingerprints each. In Airbnb mode, guests can set up a temporary pin and temporary fingerprint that can only be used throughout their stay, making The Space Safe an excellent option for an Airbnb key lockbox.

Here is why we chose a beautiful LCD Touchscreen Display. The 10" HD touch display of The Space Safe is touch-sensitive, allowing you or your guests to input pin codes, view activity logs, and more. Biometrics fingerprint authentication is the most secure method of gaining access to your safe. The sizable scanning surface is designed for 360-degree fingerprint detection for quick, safe access to your valuables. As a highly advanced fingerprint safe, more than 200 prints can be stored. Easily add and delete fingerprints using the settings screen.

Two HD cameras allow you to see inside and outside your Space Safe when no guest is checked in. You (or your Airbnb guests) will be notified via text or the app if any motion or password attempt is detected. The exterior and interior cameras capture who is trying to gain access to your valuables and what they take if they do, as long as no guests are currently checked in. Another benefit of having a camera feed is it proves guests have successfully checked in. Traveling can be nerve-wracking, which is why Airbnb guests want to stay somewhere they feel safe and comfortable. Providing guests with a secure check-in process and a place to store their valuables shows them you care for their privacy. The Space Safe has many unique features that make it the best safe for Airbnb guests, which we will continue to discuss below. Our smart safe does what no safe has done before. When designing The Space Safe, we pulled out all the stops to create a sleek, high-tech biometric safe with all the futuristic features of your dreams.

Our highly advanced tamper sensors can detect if someone is trying to get into your safe. Accelerometers on The Space Safe can feel any gravitational pull, including free-fall, vibration, tilting, or shock. If this happens, you will be notified, and your safe will go into lockdown mode. In lockdown mode, the interface becomes inaccessible and displays an alarming message if touched. Lockdown mode may also be enabled from the app or automatically if someone enters the incorrect pin three times. Disengage this feature remotely from your mobile device or with your emergency override key.

While WiFi for The Space Safe is not required, connecting it to the internet gives you access to the most exciting features, such as notifications, remote lockdown, and updates. We developed our smart safe with 256 AES-bit encryption making it virtually impossible to hack. However, if you prefer, you can still use The Space Safe off the grid. For owners only, the most helpful feature of your biometric safe is app connectivity. From our SPACE app, you can access the activity log, camera streaming, temperature, and climate. You can also adjust user access, lockdown, and colored exterior lighting. Certain valuables and documents require perfect conditions for ultimate protection. Keep track of the temperature and humidity with high-tech sensors, which can be viewed from the app.

The Space Safe Is the Future of Security and in conclusion, we recommend that all Airbnb hosts offer some security and peace of mind for their Airbnb guests, whether it's a low costing safe that isn't very secure, or if you go with The Space Safe, a highly secure biometric safe. Your Airbnb guests will appreciate it and give you good Airbnb ratings, which means repeat customers. It's always important to keep a safe, secure place for your guests to store personal items. The Space Safe is powered by a discreet power adapter compatible with any active outlet–so what happens when the power goes out? Your guests' valuables will still be accessible because of a hidden backup battery that can power your device. You can also use the backup key included with your Space Safe purchase. This biometric system has 508 DPI (dots per inch), which means it is incredibly secure. For comparison, FBI systems require 500 DPI. The key to successfully hosting a rental property is automating the entire process. With our safes we have created the perfect security solution for you and your guests.